LatAm's 40+ Top Climate VCs to Know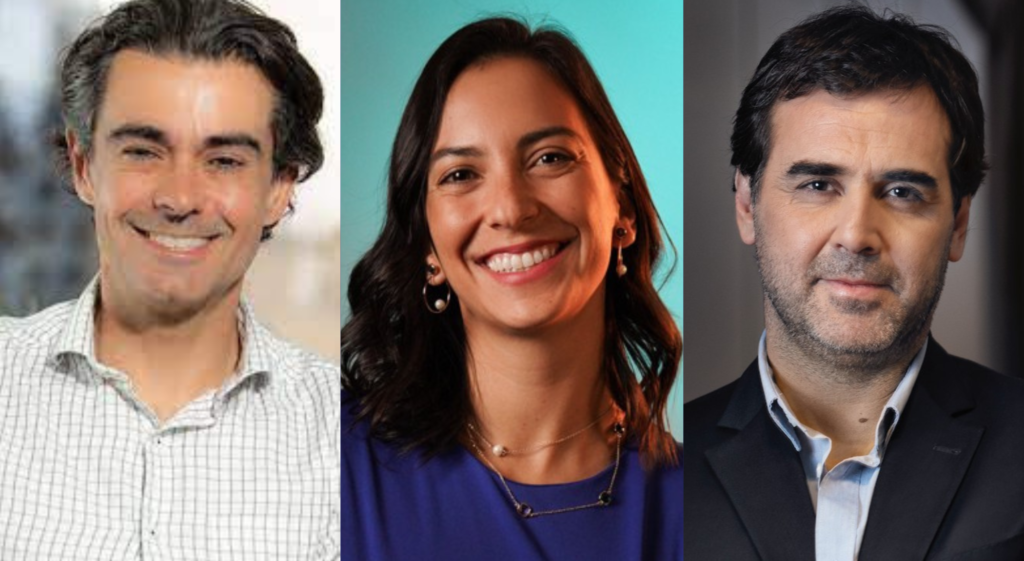 Climate change is taking on a multitude of forms across Latin America.
Drought, flooding, heatwaves, water shortages, biodiversity loss and deforestation are disrupting communities and ecosystems across the region.
As the impact of climate change hits the region, it's no surprise that Climate adaptation and mitigation technologies are on the rise in Latin America.
And are predicted to become one of the most liquid VC investment categories in the coming years.
Yet not enough funding is heading their way. Latin America and Africa (combined) receive only 4% of all climate funding, according to Latitud.
Introducing 40+ LatAm VCs closing the LatAm finance gap in ClimateTech across:
⚡️ Renewable energy
🏍 Electric transportation
💦 Flood/drought mitigation
🌾 Climate-smart agriculture
🌴 Biodiversity and reforestation
💨 Carbon capture and sequestration
P.S.
Get a 5-minute weekly recap on what's new in ClimateTech 👉 Sign up
Stay ahead on ClimateTech trends 👉 Get smarter with HackTrends
Discover Top Climate VCs in Europe, USA, APAC, MENA and Africa 👉 Head there
Argentina
Ignacio Peña, AIR Capital. An entrepreneur, strategic advisor and innovation activist, now Co-Founder at AIR Capital empowering disruptive entrepreneurs. Portfolio includes: Branch Energy, OutPost, Stämm
Juan Manuel Giner Gonzalez, Alaya Capital. Following 20 years of corporate experience, he is a Partner at Alaya Capital, investing in the next generation of Latin American digital entrepreneurs who will impact the world. Portfolio includes: Kilimo, Moova, Aquabyte
Ruben Altman, Antom.la. A serial founder turned investor at Antom. A fund that invests in Latin American companies that aim to provide sustainable solutions for agriculture, food and land use change. Portfolio includes: Huiro, Kilimo, Ruuts
Daniel Salvucci, Draper Cygnus. A pre-seed to Series A VC fund investing in deep tech and decentralisation. Portfolio includes: Dynami, GBM, Satellogic, Splight, Stamm
Bernardo Milesy, GLOCAL. Having worked 15+ years in commerce and finance, Bernardo combines his passion for management and leadership to help impact startups scale their business. Portfolio includes: b4waste, Done Properly, puna.bio
Matías Peire, GridX. The first biotech Company Builder in Latin America investing in scientific projects that want to turn their knowledge into an impact driven start-up. Portfolio includes: Geoprot, Nat4Bio, Radial
Marta Cruz, NXTP Ventures. One of the oldest VC firms in Latin America, investing in the region's early-stage startups. Portfolio includes: Agrofy, Auravant, Kilimo
Francisco Buchara, SF500. A company builder on mission is to increase the number of biotechnology companies in the Latin American ecosystem by building, investing and accelerating 500 scientific teams that are working to address global challenges in food, carbon neutrality, health and materials.
Tomás Peña and Camila Petignat, The Yield Lab LATAM. Two entrepreneurs-turned-investors backing high impact companies in the Latin American AgriFoodTech sector. Portfolio includes: Botanical Solution, Eiwa, MicroTerra
Brazil
José Tomé, AgTech Garage. A chemical engineer with strong business acumen and a background in R&D, he is Co-Founder and CEO of the largest agribusiness open innovation hub in Brazil.
Julio Vasconcellos, Atlantico. A former CEO, Founder and Founding Partner, Julio and his team of early stage VC investors back bold founders seeking to define a better future in Latin America and beyond. Portfolio includes: XpertSea
Flavio Zaclis, Barn Investments. Barn is a greentech investment leader in Latin America, with 10+ portfolio companies within the verticals of Agri & Land Use, Circular Economy, Renewable Energy and Logistics. Also, Flavio Zaclis is Barn's founder. Portfolio includes: Agrolend, Grão Direto, Nextron, Rúmina
Julia Salles, Kaszek. Partnering with extraordinary technology founders to build lasting, high-impact technology-based companies whose main focus is Latin America. Portfolio includes: Liv Up, NotCo, Olga Ri
Alexandre Icaza, Lifely VC. By focusing on ClimateTech, a high-growth and disruptive sector, Lifely is supporting sustainable businesses towards a more sustainable and inclusive supply chain. Portfolio includes: Bucha Bio, Hyfé, MYCL Mycotech Lab
Antonio Moreira Salles, Mandi Ventures. Stanford Graduate, now Co-Founder and General Partner accelerating disruptive technologies in food and agriculture. Portfolio includes: Les Miraculeux, Multus Media, Tarken
Fábio Kestenbaum, Positive Ventures. Fabio is a Founding Partner at Positive Ventures, an emerging impact investing powerhouse, with assets towering $1B+. Portfolio includes: Eureciclo, Pachama, Ruuf
Denis Pedreira, Prosus Ventures. Denis is Head of LatAm investments at the Venture venture investing arm of Prosus, backing companies that empower people and enrich communities. Portfolio includes: Neara, Oxford Ionics, The Every Co
Hayden Simmons, RaliCap. Doubling down on Brazil, RaliCap is an emerging market fintech and climate fund, and collective to empower top-tier founders. Portfolio includes: Amini, Circadian, Solfium
Guilherme Penna, Silence VC. An early-stage ClimateTech investor, focusing on the US and Latin America with previous experience across M&A, Private Equity, and strategy consulting. Portfolio includes: Musa, Nido, Runwise
Francisco Jardim, SP Ventures. Francisco has led more than 34 investments and served on more than 20 boards of directors in the agrifood sector. SP Ventures backs the people daring to reinvent the AgriFood value chain. Portfolio includes: InCeres, Moss, Pink Farms
Livia Brando, VOX Capital. Livia is the Venture Capital Director at VOX Capital, the first certified impact investing fund in Brazil. Portfolio includes: Seedz
Chile
Eugenio Cantuarias, AceleraLatam. A startup accelerator and VC, focused on improving performance of early-stage startups, using a business development centered approach, their experience, network and funding to ignite their clients.
Gonzalo Perez-Taiman, Arpegio. Developing and strengthening a tight network of industry leaders, in Latin America and around the world, who are working in food, agriculture and related fields. Portfolio includes: Apparta, Save Fruit,Yema
Catalina Gaueca Carrillo, ChileGlobal Ventures. ChileGlobal Ventures supports world-class entrepreneurs working on innovative and disruptive solutions in impact industries from Chile to the world. Portfolio includes: Accion Circular, Fresh Water, Suncast
Nathan Lustig, Magma Partners. A serial founder, author of Startup Chile 101 and now Managing Partner at Magma Partners, a seed stage VC fund based in Latin America, USA and China. Portfolio includes: Compound Foods, Urbint, Somos
Santiago Caniggia Bengolea, Mountain Partners Chile. Experienced in VC, start up, legal and consultancy services industries. Mountain Partners Chile backs entrepreneurs creating a better world through sustainable technology and green solutions. Portfolio includes: Driv.in
Maria de los Angeles Romo and Pascal Farcas, SQM Lithium Ventures. CVC fund investing in startups related to electromobility, lithium, and water. Portfolio includes: Electric Era Technologies, Altilium Metals
Hadrien le Hodey, Water Lemon Ventures. Hadrien is an entrepreneur and investor bringing value to early-stage companies willing to set up the proper process to grow, establish a long-term vision, and prepare their organisation for a funding round. Portfolio includes: Brightseed, Verdant Robotics, Ynsect
Francisco Schuler Bravo, Wayra Hispam. As the corporate investment and open innovation arm of Telefónica in 10 countries around the world, Wayra Hispam leads digital startups to grow rapidly, attract investment and open new markets. Portfolio includes: Chazki, Climo, Less
Pablo Fernandez, Zentynel. Creating a new generation of science and business funds to address the world's greatest health and food challenges by specializing in life science companies with high growth potential. Portfolio includes: Harmony, MicroTerra
Colombia
Sebastian Buenaventura, and Ryan Nesbitt, Flori Ventures. An impact seed-stage fund investing in top entrepreneurs in Latam and Sub-Saharan Africa, with a focus on building the future financial system and solutions for the Climate crisis. Portfolio includes: Carbon Path, Plastiks, Unergy
Adriana Suarez Pardo, MatterScale Ventures. Adriana and her team have built a network of 90 entrepreneurs from 52 startups including the top performing entrepreneurs in the country. Portfolio includes: Rappi, Merqueo, Robin Food
Mexico
Jimena Pardo, ALLVP. A founder, growth manager and board member to 5 startups, Jimena and the tram back formidable founders solving Latin America's hardest problems with AI. Portfolio includes: Enlight, RobinFood
Anna Raptis, Amplifica Capital. Anna is the founding and managing partner of Amplifica Capital, investing to increase economic participation and opportunities for women in Latin America. Portfolio includes: Agtools, Aquacultured Foods, Kolors
Gabriel Estrada Escalante, Dalus Capital. Experienced deal maker in VC and M&A across Fintech, ClimateTech, SaaS and Marketplaces. Portfolio includes: Algramo, Energryn, NCX
Andrea Araneda, FEN Ventures. An early-stage impact technology VC firm partnering with the best entrepreneurs from Seed to Series A in LatAm. Portfolio includes: Andes, Spora BioTech, The Live Green Co
Jonathan Lewy, Investo. Former founder with a startup acquired by JustEat. Investo is an investment firm backing early stage startups with a team across 7 countries in Latin America. Portfolio includes: C16 Biosciences,Skyways, Solugen
Hector Sepulveda, Nazca. A serial entrepreneur with two successful exits, he is empowering the best leaders in Mexico and across LatAm to thrive. Portfolio includes: Bia, CoreZero, Entocycle
José Rodolpho Bernardoni, Outcast Capital. Jose is a serial founder-turned-investor on a mission to simplify access to capital for food startups using technology to overcome inefficiencies in the food system.
Alejandro González, Redwood Ventures. An Investment Banker, Financial Analyst and Venture Capitalist backing outstanding founders to shape the future. Portfolio includes: Domotics, Genius Foods, Velozbio
Fernando Lelo de Larrea, Rumbo Ventures. With 15 startups in its portfolio, Rumbo Ventures has built a community called Latam Path to Net Zero and is becoming a hub for LatAm founders that want to enter the European market as well. Portfolio includes: CoreZero, Nido, Parallel Carbon
Andres Baehr, Savia Ventures. Impact investing VC firm, seeking to capitalize on the huge market opportunity in LatAm´s ClimateTech startup sector. Portfolio includes: Strong by Form, Ruedata, Solfium
Beatriz Gonzalez, Seaya Cathay LatAm. A multi-sector fund for purpose-driven entrepreneurs by Seaya and Cathay Innovation. Seaya's portfolio includes: 011h, Biome Makers, Rated Power
Luis Gerardo Carvajal Fernandez, Siemens Energy Ventures. Luis is a Sustainability Operations Specialist and Venture Building Analyst at Siemens Energy who is passionate about connecting the dots, finding synergies and creating opportunities for collaboration between people and sectors to achieve positive change in the world. Investment themes at Siemens Energy Ventures include: Energy Storage, Power-to-X, Resilient Grids & Stability, Decarbonized Heat & Industrial Processes, Condition-Based Service Interventions
Consuelo Valverde, SV Latam. Backing early-stage founders building creative solutions to global problems across Climate and Health. Portfolio includes: BioSolutions, Minus Coffee, SkyAlert
Elsa Trevino, Toro Ventures. An experienced Managing Partner with a demonstrated history of working in the venture capital and private equity industry, investing in tech startups at Toro Ventures. Portfolio includes: Wright Electric
Patricia Desentis, 500 LatAm. Sharing her expertise in strategy, finance and operations, Patricia and the team back talented entrepreneurs and help them create successful companies at scale. Portfolio includes: Agrapp, Grillo, SmartFarmr
Panama
Tim Rann, Mercy Corps Ventures. An entrepreneur and investor focused on emerging markets with a mission to address major social inequalities and climate change. Portfolio includes: Cloud to Street, Verqor, Kofa
Peru
Lucia Montalvo Castro, Salkantay VC. Investing and empowering entrepreneurs with the capital and tools to generate a positive and measurable impact with a healthy financial return. Portfolio includes: Aerialloop, Kilimo, Cultivo
Uruguay
Juan Pablo Garavaglia, ARCHECompany. With over 20 years of experience in the industrial technology field, Juan Pablo is the Founder and President of ARCHECompany, investing in deep tech early stage startups across the energy and climate sectors in Latin America.
Hernan Haro, MrPink VC. An entrepreneur and advisor, passionate about innovation and technology. Their seed fund is designed to invest in unproven, brilliant founders in Colombia, Argentina, Peru, Uruguay, and Chile. Portfolio includes: Manzana verde, Nutri Co
Know someone else who should be on this list? Drop us note at team@hackgroup.org
👉 To get the next ClimateHack article straight to your inbox, along with the weekly digest on all the latest funding rounds and ClimateTech news, sign up here