Without This, It's Game Over — Clear Current Capital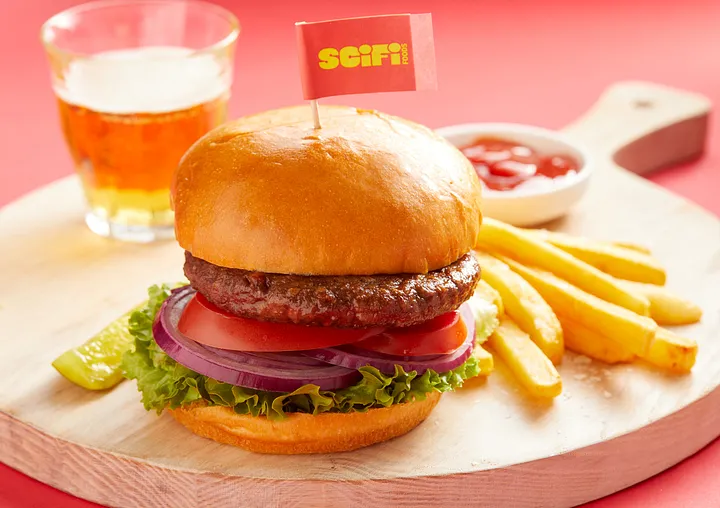 This is a summary of the content that was originally published on 14 June 2023 by Steve Molino, for Clear Current Capital. Image by SCiFi. You can read the original publication HERE.
---
ENGLISH
The author tried a hybrid beef burger made with cultivated beef and plant-based ingredients.
The taste, experience, and smell of the burger were familiar and ordinary, which was what the author was hoping for.
The cultivated meat company, SCiFi Foods, demonstrated a high level of transparency throughout the experience, from inviting the author for a tasting to providing a tour of their facilities.
The author emphasizes the importance of transparency in the sustainable food space and contrasts it with the lack of transparency in the current food system.
Transparency is crucial for creating a food system that consumers can trust and embrace.
While regulatory oversight on transparency is important, companies should take the initiative to be transparent with consumers themselves.
ESPAÑOL
El autor probó una hamburguesa de carne híbrida hecha con carne cultivada e ingredientes vegetales.
El sabor, la experiencia y el olor de la hamburguesa eran familiares y comunes, lo que era lo que el autor esperaba.
La empresa de carne cultivada, SCiFi Foods, demostró un alto nivel de transparencia durante la experiencia, desde invitar al autor a una degustación hasta proporcionar un recorrido por sus instalaciones.
El autor enfatiza la importancia de la transparencia en el ámbito de los alimentos sostenibles y contrasta esto con la falta de transparencia en el sistema alimentario actual.
La transparencia es crucial para crear un sistema alimentario en el que los consumidores puedan confiar y adoptar.
Si bien la supervisión regulatoria en cuanto a la transparencia es importante, las empresas deben tomar la iniciativa de ser transparentes con los consumidores ellos mismos.
PORTUGUÊS
O autor experimentou um hambúrguer de carne híbrido feito com carne cultivada e ingredientes vegetais.
O sabor, a experiência e o cheiro do hambúrguer eram familiares e comuns, exatamente o que o autor esperava.
A empresa de carne cultivada, SCiFi Foods, demonstrou um alto nível de transparência durante a experiência, desde convidar o autor para uma degustação até fornecer um tour por suas instalações.
O autor enfatiza a importância da transparência no espaço de alimentos sustentáveis e contrasta isso com a falta de transparência no sistema alimentar atual.
A transparência é crucial para criar um sistema alimentar no qual os consumidores possam confiar e adotar.
Embora a supervisão regulatória em relação à transparência seja importante, as empresas devem tomar a iniciativa de ser transparentes com os consumidores por conta própria.