A more volatile normal for food and agricultural commodities — S&P Global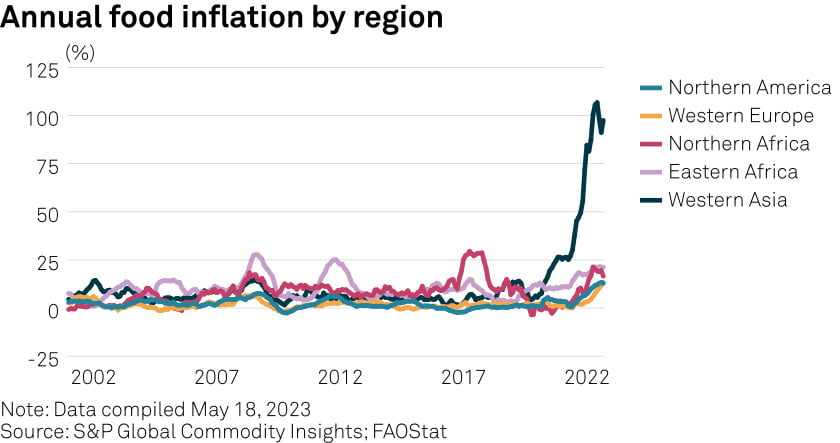 This is a summary of the content that was originally published on 28 June 2023 by Lee Bridgett, for S&P Global. Image by S&P Global. You can read the original publication HERE.
---
ENGLISH
Inflation, especially in food prices, has been a significant concern recently.
Commodity prices alone do not drive inflation; other factors are involved.
Similarities to the 1970s are observed due to high global inflation and food price increases.
Past surges in commodity prices did not always lead to widespread global inflation.
Structural shifts in the food system have changed the dynamics, including increased global trade and shifts in demand for animal protein and renewable fuels.
Food prices have declined over the long term when adjusted for inflation, but volatility has increased.
ESPAÑOL
La inflación, especialmente en los precios de los alimentos, ha sido una preocupación importante recientemente.
Los precios de las materias primas por sí solos no impulsan la inflación; intervienen otros factores.
Se observan similitudes con la década de 1970 debido a la alta inflación global y el aumento de los precios de los alimentos.
Las oleadas pasadas en los precios de las materias primas no siempre condujeron a una inflación global generalizada.
Los cambios estructurales en el sistema alimentario han alterado las dinámicas, incluido el aumento del comercio global y los cambios en la demanda de proteínas animales y combustibles renovables.
Los precios de los alimentos han disminuido a largo plazo cuando se ajustan por inflación, pero la volatilidad ha aumentado.
PORTUGUÊS
A inflação, especialmente nos preços dos alimentos, tem sido uma preocupação significativa recentemente.
Os preços das commodities por si só não impulsionam a inflação; outros fatores estão envolvidos.
São observadas semelhanças com a década de 1970 devido à alta inflação global e ao aumento dos preços dos alimentos.
Surto anteriores nos preços das commodities nem sempre resultaram em uma inflação global generalizada.
Mudanças estruturais no sistema alimentar têm alterado as dinâmicas, incluindo o aumento do comércio global e mudanças na demanda por proteína animal e combustíveis renováveis.
Os preços dos alimentos têm diminuído a longo prazo quando ajustados pela inflação, mas a volatilidade tem aumentado.