Why Singapore is the only place in the world selling lab-grown meat — BBC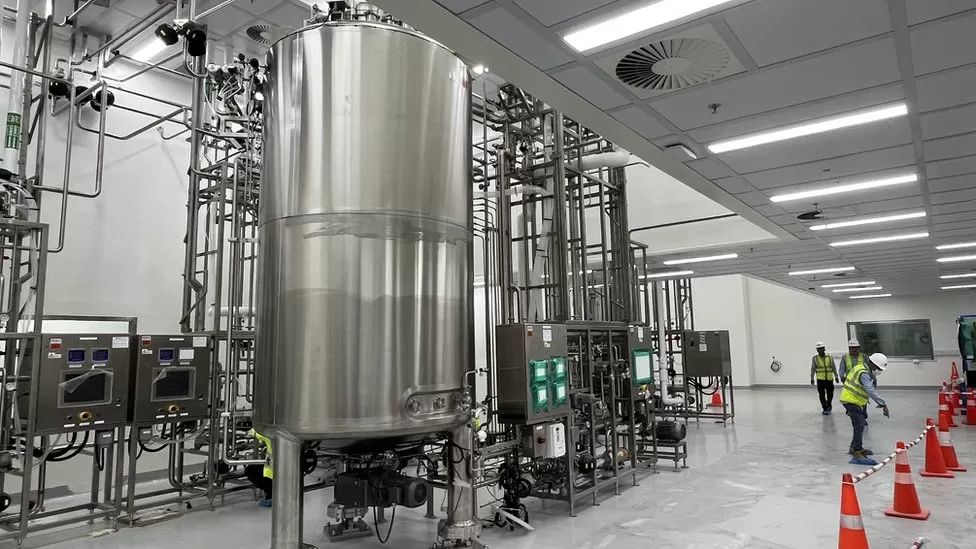 This is a summary of the content that was originally published on 8 June 2023 by Nick Marsh, for BBC. Image by BBC. You can read the original publication HERE.
---
ENGLISH
Cultivated meat, produced in a laboratory rather than a farm, is gaining attention as a potential revolution in the food industry.
Eat Just, a California-based company, is the only one to have its cultivated meat approved for public sale in Singapore.
Feedback from customers at Huber's Butchery and Bistro in Singapore, the only restaurant serving cultivated meat, has been positive.
Cultivated meat is created by extracting cells from an animal, feeding them nutrients, and allowing them to grow in a bioreactor.
Challenges include scalability and cost reduction, with current production capacity significantly lower than conventional meat.
The industry requires both private and public funding, realistic forecasts, and government support to achieve widespread availability and compete with traditional meat.
ESPAÑOL
La carne cultivada, producida en un laboratorio en lugar de una granja, está ganando atención como una potencial revolución en la industria alimentaria.
Eat Just, una empresa con sede en California, es la única que ha obtenido la aprobación para la venta pública de su carne cultivada en Singapur.
Los comentarios de los clientes en Huber's Butchery and Bistro en Singapur, el único restaurante que sirve carne cultivada, han sido positivos.
La carne cultivada se crea extrayendo células de un animal, alimentándolas con nutrientes y permitiendo que crezcan en un biorreactor.
Los desafíos incluyen la escalabilidad y la reducción de costos, ya que la capacidad de producción actual es significativamente menor que la de la carne convencional.
La industria requiere tanto financiamiento privado como público, pronósticos realistas y el apoyo gubernamental para lograr una disponibilidad generalizada y competir con la carne tradicional.
PORTUGUÊS
A carne cultivada, produzida em laboratório em vez de uma fazenda, está ganhando atenção como uma potencial revolução na indústria de alimentos.
A Eat Just, uma empresa sediada na Califórnia, é a única que obteve aprovação para venda pública de sua carne cultivada em Singapura.
O feedback dos clientes no Huber's Butchery and Bistro em Singapura, o único restaurante que serve carne cultivada, tem sido positivo.
A carne cultivada é criada através da extração de células de um animal, alimentando-as com nutrientes e permitindo que cresçam em um biorreator.
Os desafios incluem escalabilidade e redução de custos, pois a capacidade de produção atual é significativamente menor do que a carne convencional.
A indústria requer financiamento privado e público, previsões realistas e apoio governamental para alcançar uma disponibilidade ampla e competir com a carne tradicional.