Revolutionizing Coffee Roasting: ansā Roasting Inc. Secures $9M Funding for Innovative CoffeeTech Solution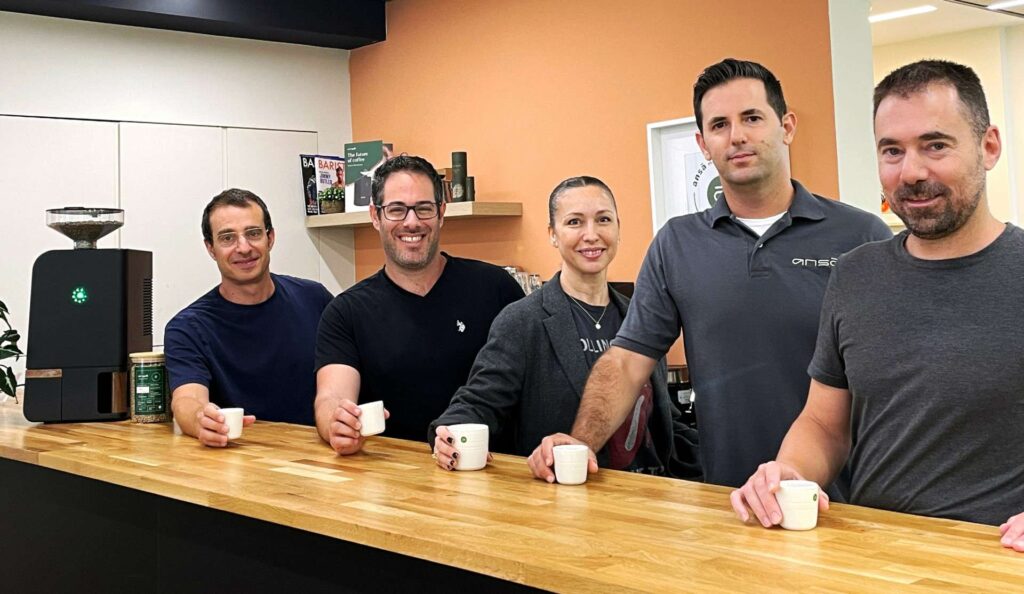 CoffeeTech startup ansā Roasting Inc. has announced a significant milestone in its journey towards transforming the coffee industry. The company has successfully secured $9 million in funding, a substantial achievement that underscores the immense potential of its innovative approach. Leading this funding round is Jibe Ventures, a Tel Aviv-based early-stage fund, with participation from Closed Loop Ventures, New Climate Ventures, Millennium Food-tech, and Sweetwood. This infusion of capital will accelerate the full commercial roll-out of ansā's state-of-the-art coffee micro-roaster across North America, specifically tailored for the dynamic away-from-home coffee segment.
ansā Roasting Inc. is poised to usher in a new era within the $300 million coffee industry, redefining the experience of savoring fresh coffee while fostering a more sustainable and harmonious relationship with our planet.
At the heart of ansā's groundbreaking innovation is a fully autonomous mini roaster, offering a sustainable alternative to the large, noisy, and smoke-emitting industrial roasters commonly used. Designed to elegantly fit onto any countertop, the compact device is an ideal addition to various commercial spaces such as hotel lobbies, restaurants, cafes, and shared work environments. Remarkably, the appliance operates quietly, without smoke, and remains cool to the touch.
The distinctive countertop roaster introduces on-demand roasting of custom raw green coffee beans, transforming them into a delightful brew just moments before consumption. This cutting-edge device can roast a single serving of coffee within minutes or be programmed to roast a specific quantity at a designated time, all controlled through the intuitive ansā Roasting app.
Subscribers to ansā's service enjoy a consistent supply of specialty-grade, 100% Arabica beans sourced directly from coffee fields, delivered in bulk recyclable packaging. The result is a range of compelling environmental advantages, including reduced carbon emissions and an unparalleled coffee-drinking experience. Furthermore, this approach ensures that coffee farmers receive their fair share of the rewards.
ansā's innovative sourcing and supply strategy significantly reduces the distances coffee beans need to traverse by minimizing transportation between farms, roasting facilities, and customers. This initiative also eliminates the reliance on single-use capsules and other environmentally harmful packaging.
"We are delighted to invest in ansā, a CoffeeTech startup that perfectly aligns with our business philosophy," remarks Danny Hadar, Co-founder and Partner at Jibe. "Coffee holds a cherished place in global beverage preferences, with a substantial market footprint. ansā not only presents a robust eco-friendly dimension but also pioneers a fresh approach to coffee enjoyment, shaping an exciting and environmentally conscious future for the industry. Our investment strategy focuses on supporting sustainable ventures capable of creating profound impacts."
The newly secured funds will drive the commercial launch of ansā's micro roaster in workspaces across the United States and beyond. "Our micro-roaster is primed for market entry. In 2023, we've already secured commercial agreements with prominent distributors nationwide, eagerly anticipating the launch in key locations such as Los Angeles, New York, Atlanta, Seattle, and more!" declares Yuval Weisglass, co-founder, and CEO of ansā. "We are dedicated to expanding our geographical coffee services to meet the growing demand for sustainable solutions, ensuring our distinctive coffee concept reaches a wider audience."
The e23 micro roaster developed by ansā marks a transformative shift in the roasting paradigm, moving beyond mere downsizing of industrial roasters. Departing from conventional roasting methods that have long relied on high-temperature gas-operated convection heat exceeding 200°C, ansā introduces an entirely novel approach to coffee roasting. Their patent-pending countertop device energizes coffee beans from their core to the shell, devoid of noise, heat, or undesirable by-products. This fully automated appliance is equipped with a range of sensors and cutting-edge computer vision AI algorithms, ensuring a consistently even roast and the preparation of a perfect, freshly brewed cup of coffee.
"ansā is rewriting the coffee narrative by providing aromatic fresh coffee 'from shrub to cup' in a sustainable manner," enthuses Matan Scharf, co-founder, and CMO of ansā. "The coffee landscape has long yearned for revitalization. Our mission is to offer consumers an exceptional coffee experience, enabling them to engage with green coffee beans while indulging in the finest quality coffee at its freshest. All the while, they contribute to safeguarding our planet and supporting the livelihoods of coffee farmers."