New York City's food delivery workers will be the first in the country to get a minimum wage — Quartz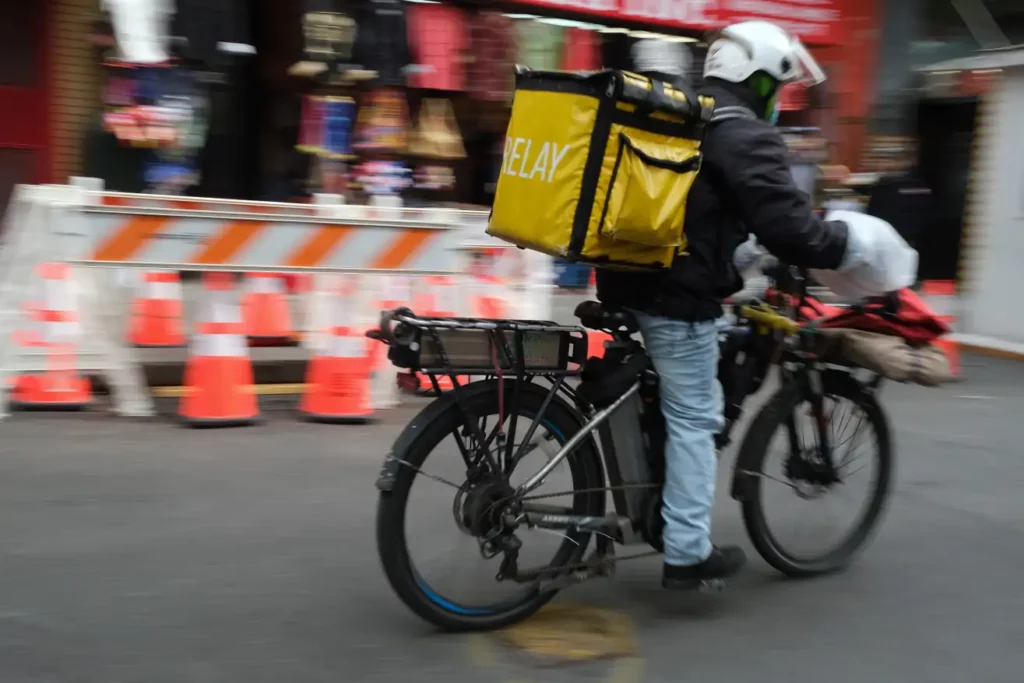 This is a summary of the content that was originally published on 12 June 2023 by Julia Malleck, for Quartz. Image by Spencer Platt (Getty Images). You can read the original publication HERE.
---
ENGLISH
New York City will implement new regulations to establish a minimum pay rate for food delivery workers, starting at $17.96 per hour from July 12, 2023.
The minimum wage will increase to $19.96 per hour by April 2025.
The new pay floor does not include tips and will significantly raise workers' average pay, which currently stands at $7.09 per hour.
DoorDash may take legal action against the policy, considering it extreme, while Grubhub and Uber Eats expressed concerns about negative consequences for workers.
The new regulations also mandate pay per minute, with $0.30 compensation for waiting time and $0.50 for time spent making a food delivery.
Delivery workers, represented by groups like Los Deliveristas Unidos, campaigned for better pay and conditions, leading to the passage of legislation in October 2021, which laid the groundwork for minimum wage protections.
ESPAÑOL
La ciudad de Nueva York implementará nuevas regulaciones para establecer un salario mínimo para los repartidores de alimentos, comenzando en $17.96 por hora a partir del 12 de julio de 2023.
El salario mínimo aumentará a $19.96 por hora en abril de 2025.
El nuevo sueldo no incluye propinas y aumentará significativamente el salario promedio de los trabajadores, que actualmente es de $7.09 por hora.
DoorDash podría tomar medidas legales contra la política, considerándola extrema, mientras que Grubhub y Uber Eats expresaron preocupaciones sobre las consecuencias negativas para los trabajadores.
Las nuevas regulaciones también establecen un pago por minuto, con una compensación de $0.30 por tiempo de espera y $0.50 por tiempo dedicado a realizar la entrega de alimentos.
Los trabajadores de reparto, representados por grupos como Los Deliveristas Unidos, lucharon por mejores salarios y condiciones, lo que llevó a la aprobación de una legislación en octubre de 2021, sentando las bases para protecciones salariales mínimas.
PORTUGUÊS
A cidade de Nova York implementará novas regulamentações para estabelecer um salário mínimo para os entregadores de comida, começando em $17.96 por hora a partir de 12 de julho de 2023.
O salário mínimo aumentará para $19.96 por hora até abril de 2025.
O novo piso salarial não inclui gorjetas e aumentará significativamente o salário médio dos trabalhadores, que atualmente é de $7.09 por hora.
A DoorDash pode tomar medidas legais contra a política, considerando-a extrema, enquanto a Grubhub e o Uber Eats expressaram preocupações com as consequências negativas para os trabalhadores.
As novas regulamentações também estabelecem um pagamento por minuto, com uma compensação de $0.30 pelo tempo de espera e $0.50 pelo tempo gasto na entrega de alimentos.
Os entregadores, representados por grupos como Los Deliveristas Unidos, lutaram por melhores salários e condições, o que levou à aprovação de uma legislação em outubro de 2021, estabelecendo as bases para proteções salariais mínimas.