John Deere's Robotic Tractor is The Result of Years of Investment in AI-Powered Farming — The Spoon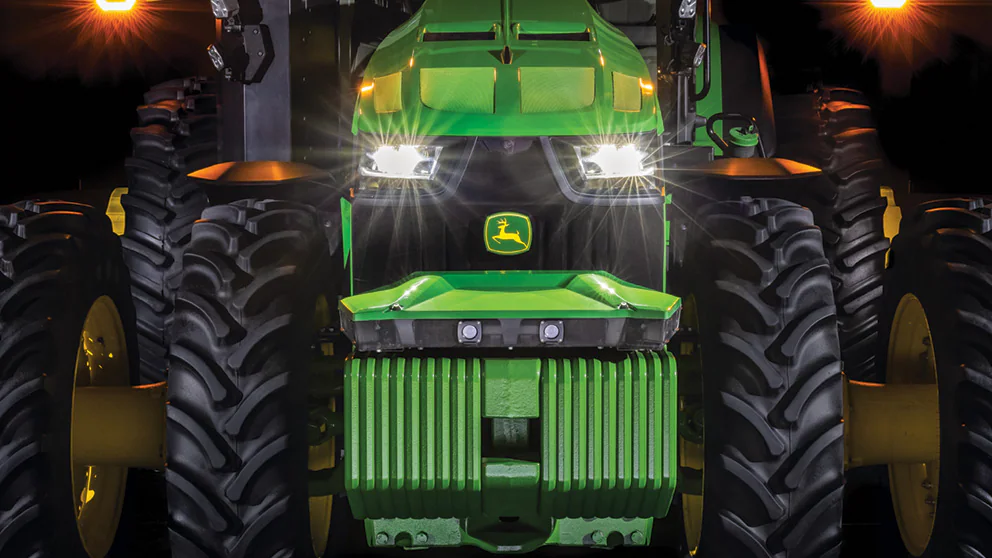 This is a summary of the content that was originally published on 10 April 2023 by Michael Wolf, for The Spoon. Image by The Spoon. You can read the original publication HERE.
---
ENGLISH
John Deere debuted its first-ever autonomous tractor at CES 2022, signaling a new era of AI & robotic farming.
Blue River Technology, acquired by John Deere in 2017, has accelerated John Deere's move into precision agriculture with its "see and spray" computer vision technology.
The technology enables targeted applications of herbicide to weeds in row crops, reducing herbicide usage by 77% or more.
Blue River's investment in deep learning-powered computer vision has been fully realized in the latest incarnation of the technology, See and Spray Ultimate, which can differentiate between similarly colored weeds and crops.
The combined competencies and data gathered across John Deere's various AI efforts are helping create the first 8R autonomous tractor.
Chris Padwick, the Director of Computer Vision and Machine Learning at Blue River Technology, believes farmers will embrace autonomous tractors based on the rapid acceptance of See and Spray technology, and expects word of mouth to drive adoption among farmers.
ESPAÑOL
John Deere presentó su primer tractor autónomo en CES 2022, señalando una nueva era de agricultura con inteligencia artificial y robótica.
Blue River Technology, adquirida por John Deere en 2017, ha acelerado la incursión de John Deere en la agricultura de precisión con su tecnología de visión por computadora "ver y rociar".
La tecnología permite la aplicación dirigida de herbicidas a las malezas en cultivos en línea, reduciendo el uso de herbicidas en un 77% o más.
La inversión de Blue River en visión por computadora impulsada por aprendizaje profundo se ha realizado plenamente en la última versión de la tecnología, See and Spray Ultimate, que puede diferenciar entre malezas y cultivos de colores similares.
Las competencias y datos combinados recopilados en los diversos esfuerzos de inteligencia artificial de John Deere están ayudando a crear el primer tractor autónomo 8R.
Chris Padwick, Director de Visión por Computadora y Aprendizaje Automático en Blue River Technology, cree que los agricultores adoptarán los tractores autónomos basándose en la rápida aceptación de la tecnología See and Spray, y espera que el boca a boca impulse la adopción entre los agricultores.
PORTUGUÊS
A John Deere estreou seu primeiro trator autônomo na CES 2022, sinalizando uma nova era de agricultura com inteligência artificial e robótica.
A Blue River Technology, adquirida pela John Deere em 2017, acelerou a entrada da John Deere na agricultura de precisão com sua tecnologia de visão por computador "ver e pulverizar".
A tecnologia permite a aplicação direcionada de herbicidas em plantas daninhas em fileiras de cultivo, reduzindo o uso de herbicidas em 77% ou mais.
O investimento da Blue River em visão por computador alimentada por aprendizado profundo foi plenamente realizado na última versão da tecnologia, See and Spray Ultimate, que pode diferenciar entre plantas daninhas e cultivos de cores semelhantes.
As competências e dados combinados coletados nos diversos esforços de inteligência artificial da John Deere estão ajudando a criar o primeiro trator autônomo 8R.
Chris Padwick, Diretor de Visão por Computador e Aprendizado de Máquina na Blue River Technology, acredita que os agricultores adotarão os tratores autônomos com base na rápida aceitação da tecnologia See and Spray e espera que o boca a boca impulsione a adoção entre os agricultores.