Instacart users can now plan meals using AI — FastCompany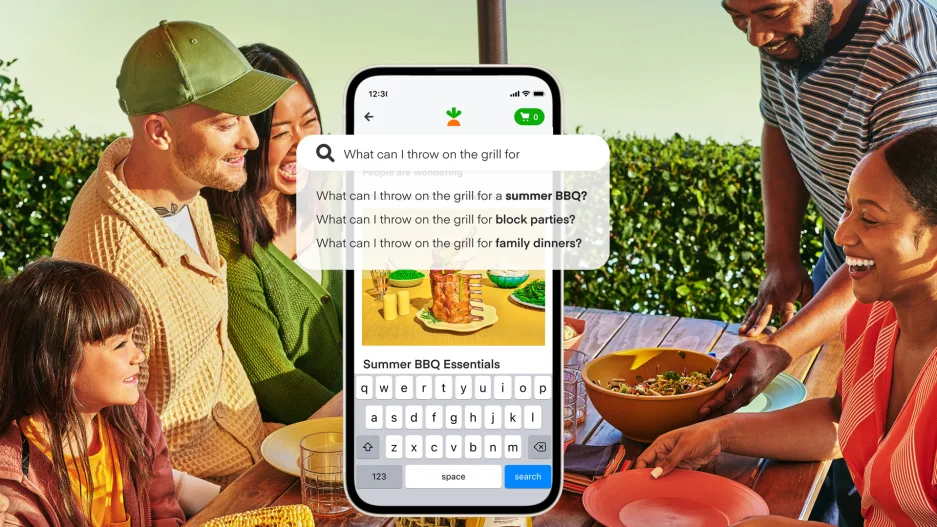 This is a summary of the content that was originally published on 31 May 2023 by Steven Melendez, for FastCompany. Image by Instacart. You can read the original publication HERE.
---
ENGLISH
Instacart has launched a new feature called "Ask Instacart" that uses AI technology to provide product suggestions in response to customer questions.
The feature utilizes OpenAI's GPT technology and Instacart's own AI models to suggest items based on inquiries about recipes, snacks, and other food-related queries.
Initially available to a limited number of customers, Ask Instacart is set to expand to all Instacart users in the U.S. and Canada in the coming weeks.
Users can type questions into the existing search bar, and the AI assistant will provide relevant product recommendations from Instacart's partner locations.
The tool considers user requests and past purchase histories to offer personalized suggestions, such as dairy-free snacks for kids or items for a summer barbecue.
Instacart aims to become more than just a delivery service and wants to assist users in planning their food purchases effectively. Future AI developments are also in the pipeline.
ESPAÑOL
Instacart ha lanzado una nueva función llamada "Ask Instacart" que utiliza tecnología de IA para proporcionar sugerencias de productos en respuesta a preguntas de los clientes.
La función utiliza la tecnología GPT de OpenAI y los propios modelos de IA de Instacart para sugerir productos basados en consultas sobre recetas, bocadillos y otras preguntas relacionadas con alimentos.
Inicialmente disponible para un número limitado de clientes, Ask Instacart se expandirá a todos los usuarios de Instacart en Estados Unidos y Canadá en las próximas semanas.
Los usuarios pueden escribir preguntas en la barra de búsqueda existente y el asistente de IA proporcionará recomendaciones de productos relevantes de las ubicaciones asociadas con Instacart.
La herramienta tiene en cuenta las solicitudes y los historiales de compras pasados de los usuarios para ofrecer sugerencias personalizadas, como bocadillos sin lácteos para niños o artículos para una barbacoa de verano.
Instacart tiene como objetivo convertirse en algo más que un servicio de entrega y desea ayudar a los usuarios a planificar sus compras de alimentos de manera efectiva. También se están desarrollando futuros avances en IA.
PORTUGUÊS
A Instacart lançou um novo recurso chamado "Ask Instacart" que utiliza tecnologia de IA para fornecer sugestões de produtos em resposta a perguntas dos clientes.
O recurso utiliza a tecnologia GPT da OpenAI e os próprios modelos de IA da Instacart para sugerir itens com base em consultas sobre receitas, lanches e outras perguntas relacionadas a alimentos.
Inicialmente disponível para um número limitado de clientes, o Ask Instacart será expandido para todos os usuários da Instacart nos Estados Unidos e Canadá nas próximas semanas.
Os usuários podem digitar perguntas na barra de pesquisa existente e o assistente de IA fornecerá recomendações de produtos relevantes a partir das localizações parceiras da Instacart.
A ferramenta leva em consideração as solicitações dos usuários e seus históricos de compras anteriores para oferecer sugestões personalizadas, como lanches sem lactose para crianças ou itens para um churrasco de verão.
A Instacart tem como objetivo se tornar mais do que apenas um serviço de entrega e deseja ajudar os usuários a planejar suas compras de alimentos de forma eficiente. Também estão previstos futuros avanços em IA.