Grant to study saline-water irrigation — News Press Now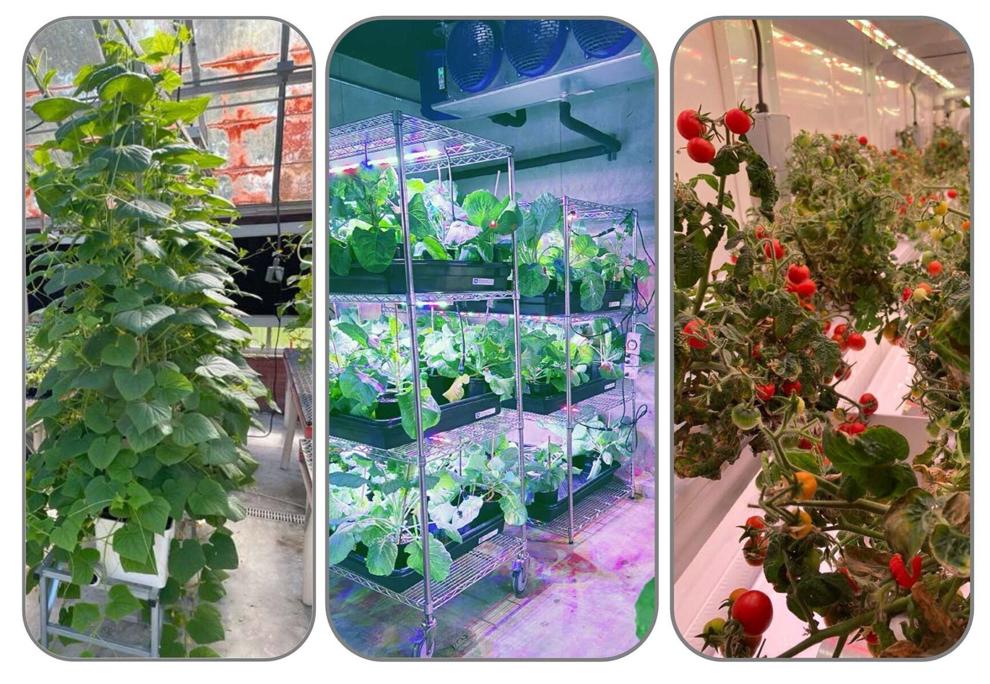 This is a summary of the content that was originally published on 16 April 2023 by Denise Attaway, for News Press Now. Image by Clemson University. You can read the original publication HERE.
---
ENGLISH
Researchers from Clemson University, the University of Florida, and the United States Department of Agriculture are studying the development of a controlled environment agriculture (CEA) platform for growing salt-tolerant crops using saline water for irrigation.
The goal is to use hydroponic CEA techniques to cultivate salt-tolerant crops sustainably, by enhancing crop salt tolerance through breeding, developing agricultural desalination technologies, and optimizing salinity management.
The study aims to help growers use marginal quality water for year-round production and is part of a $70 million investment from the USDA to establish resilient and climate-smart food and agricultural systems.
The researchers will be conducting the study in vegetable growing areas of South Carolina, Florida, and Arizona, focusing on mustard greens, cucumbers, and tomatoes.
Agriculture accounts for a significant portion of freshwater consumption in the United States, and irrigated crop production supports local rural economies and contributes to various sectors such as livestock, food processing, transportation, and energy.
ESPAÑOL
Investigadores de la Universidad de Clemson, la Universidad de Florida y el Departamento de Agricultura de los Estados Unidos están estudiando el desarrollo de una plataforma de agricultura en ambiente controlado (CEA, por sus siglas en inglés) para el cultivo de cultivos tolerantes a la salinidad utilizando agua salina para riego.
El objetivo es utilizar técnicas de CEA hidropónica para cultivar cultivos tolerantes a la salinidad de manera sostenible, mediante la mejora de la tolerancia a la sal de los cultivos a través de la selección y mejora genética, el desarrollo de tecnologías de desalinización agrícola y la optimización del manejo de la salinidad.
El estudio busca ayudar a los agricultores a utilizar agua de calidad marginal para la producción durante todo el año y forma parte de una inversión de $70 millones de dólares del Departamento de Agricultura de los Estados Unidos para establecer sistemas alimentarios y agrícolas resilientes y adaptados al clima.
Los investigadores llevarán a cabo el estudio en áreas de cultivo de vegetales en Carolina del Sur, Florida y Arizona, centrándose en variedades de mostaza, pepinos y tomates.
La agricultura representa una parte significativa del consumo de agua dulce en Estados Unidos, y la producción de cultivos irrigados apoya las economías rurales locales y contribuye a sectores como la ganadería, procesamiento de alimentos, transporte y energía.
PORTUGUÊS
Pesquisadores da Universidade de Clemson, da Universidade da Flórida e do Departamento de Agricultura dos Estados Unidos estão estudando o desenvolvimento de uma plataforma de agricultura de ambiente controlado (CEA) para o cultivo de culturas tolerantes ao sal usando água salina para irrigação.
O objetivo é usar técnicas de CEA hidropônica para cultivar culturas tolerantes ao sal de forma sustentável, através do aumento da tolerância ao sal das culturas por meio do melhoramento genético, desenvolvimento de tecnologias de dessalinização agrícola e otimização do manejo da salinidade.
O estudo visa ajudar os agricultores a utilizarem água de qualidade marginal para a produção durante todo o ano, e faz parte de um investimento de 70 milhões de dólares do USDA para estabelecer sistemas alimentares e agrícolas resilientes e inteligentes do ponto de vista climático.
Os pesquisadores conduzirão o estudo em áreas de cultivo de vegetais na Carolina do Sul, Flórida e Arizona, com foco em couve-manteiga, pepino e tomate.
A agricultura é responsável por uma parte significativa do consumo de água doce nos Estados Unidos, e a produção de culturas irrigadas apoia as economias rurais locais e contribui para diversos setores como pecuária, processamento de alimentos, transporte e energia.