Bosch BASF Smart Farming and AGCO Announce Collaboration — SeedWorld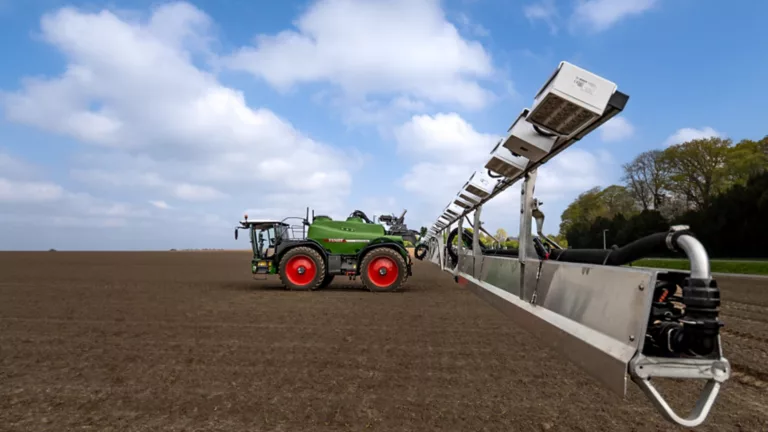 This is a summary of the content that was originally published on 12 April 2023 by Rebecca Carmeli-Peslak, for SeedWorld. Image by Bosch BASF Smart Farming GmbH. You can read the original publication HERE.
---
ENGLISH
Bosch BASF Smart Farming and AGCO Corporation collaborate on integrating Smart Spraying technology on Fendt Rogator sprayers to allow targeted herbicide application with digital tools for improved yields and efficiency.
The system uses weed identification technology and offers customized agronomic recommendations through AGCO's on-board and off-board controls and Bosch BASF Smart Farming's digital platform.
Crops currently included are corn, soy, cotton, canola, sunflower, and sugar beet, with more crops being integrated over time.
ESPAÑOL
Bosch BASF Smart Farming y AGCO Corporation colaboran en la integración de la tecnología de pulverización inteligente en los pulverizadores Fendt Rogator para permitir la aplicación selectiva de herbicidas con herramientas digitales para mejorar rendimientos y eficiencia.
El sistema utiliza tecnología de identificación de malezas y ofrece recomendaciones agronómicas personalizadas a través de los controles a bordo y fuera de bordo de AGCO y la plataforma digital de Bosch BASF Smart Farming.
Los cultivos actualmente incluidos son maíz, soja, algodón, canola, girasol y remolacha azucarera, con más cultivos que se integran con el tiempo.
PORTUGUÊS
A Bosch BASF Smart Farming e a AGCO Corporation colaboram na integração da tecnologia de pulverização inteligente em pulverizadores Fendt Rogator para permitir a aplicação seletiva de herbicidas com ferramentas digitais para melhorar os rendimentos e a eficiência.
O sistema utiliza tecnologia de identificação de ervas daninhas e oferece recomendações agronômicas personalizadas por meio dos controles a bordo e fora de bordo da AGCO e da plataforma digital da Bosch BASF Smart Farming.
As culturas atualmente incluídas são milho, soja, algodão, canola, girassol e beterraba sacarina, com mais culturas sendo integradas ao longo do tempo.